<!- INSERT CONTENT HERE >

---
MOVING
Saturday, December 20th, 2003
---
Q Man will be moving to a new home soon! This new home will feature larger grassboardin' archives and more zany variety filled comedy. Keep an eye out for updates.
-Q Man
CRUISING TO A NEW BEAT
Sunday, September 14th, 2003
---
Yeasirree, I got a new car. You can find onfo on it here. The reason being, my last one got trashed while I was driving through the DTC by some idiot driving, yea you guessed it, an SUV. Also, around the site you'll notice new Devotchka's (removed some of the fillers), a new Exception and a new Gallery section for my ever growing portfolio of my graphic arts. Enjoy!
-Q Man
UPDATES GALORE
Friday, August 8th, 2003
---
Well, much has been done since my last news update. After spending a day grassboardin', I got better images for the section and updated it with better examples and (new) Boardin' Babes! Hopefully Boardin' Babes will become so popular, every chick will want to be one! Also, changed layout of Quagmology and added some political and economical rants. Enjoy!
-Q Man
THIS JUST IN
Friday, June 27th, 2003
---
This weeks events have proved that old racist men can infact die.
-Q Man
SLOWLY PROGRESSING
Tuesday, June 24th, 2003
---
I added (by suggestion from an amigo) the random Williams Burroughs quote in the Quagmology section. The damn code I have only allows 10 quotes at the moment but I'll try to figure out how to get more. I will keep working on adding content and the next thing to be added is the Vintage section content. I should have pictures of all my games, awards for best Nintendo games of all time and more I still have to ponder.
-Q Man
AS TIME PASSES
Wednesday, June 4th, 2003
---
It's nice not having a job. I can sit and work on this place all day; which I did. I spent the last couple hours creating the new banner across the top and the new index page (first page when entering url). I'm finally happy with what I got so now on to brushing up the content! Soon to be added is information on all my Nintendo and Atari games along with links in most sections and beefing up devotchka with many more righteous babes!
Oh and wish me a happy 19th birthday next Sunday June 8th. Thanks!
-Q Man
JOBLESS AND BORED
Wednesday, May 7th, 2003
---
Yes, kind of ironic how I get a fired from my job just over a week after a new job prospect has opened up for me. But... the new prospect fell like a stooge on sheet ice. So, I'm looking for a job and living with my mom again and two months ago my girlfriend became pregnant and now I'm back to good ol' 56k. On the bright side, school's out for summer!
-Q Man
NEW MOVIE IN THE WORKS
Wednesday, March 19th, 2003
---
UPDATE: You may now download it here.!

I have been working on a new video since the release of my last one. It is now finished and all I have to do is find a host. I will probably send it to BF1942files.com. Keep an eye out for it! Thanks to [FP]Clan for their wonderful stunt server!
Click below for more pictures!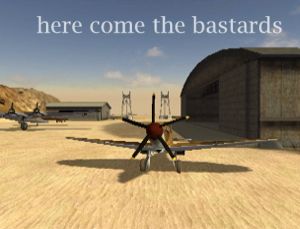 -Q Man
RELEASED!
Friday, March 7th, 2003
---
That's correct, GI Dance Party is now ready to download. Go get it!:

GI Dance Party

1.31 Patch for Battlefield has also been released. Go get it!:

Battlefield 1.31 Patch
-Q Man
MOVIE NEWS
Thursday, February 20th, 2003
---
Long time, no update. I finally got my DSL back up after switching apartments so I can now release GI Dance Party. I just have to see when MMGN's file server will be fixed and also when I get time to send it to them. Anyway, it is drawing near and I am having fun playing Battlefield and America's Army again. See you on the battlefield.
-Q Man
GI DANCE PARTY
Friday, January 17th, 2003
---
I am pleased to announce that I will soon be releasing a new Battlefield 1942 stunt/rock video entitled "GI Dance Party" (title not final). For more information, stay tuned to this site (Below is a screenshot). Also, I have made a few changes to the site lately; mainly just layout-wise. The start of the new year marks the start of a new news page. That's about all for now.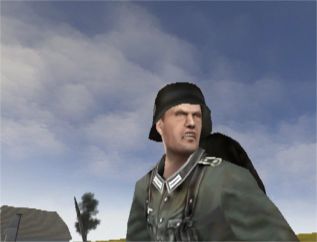 -Q Man